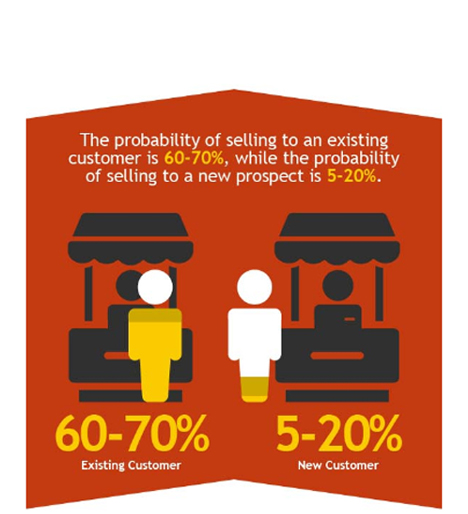 Customer loyalty pays off big time. A 5% improvement in customer retention rates yields a 25% to 100% increase in profits across industries. Happy customers spend more money. Often, it's as simple as that.
Repeat customers are the lifeline of a healthy business. They come back time and again because you have the products they want, when they want them, at the right price. It's a win-win scenario.
Analyze data to develop brand loyalty
First, understand the Power of Ps (Product, Price, Place, and Promotion) to build customer base through promotions and loyalty programs. The options are endless. You may want to try strategies for repeat customers like points-based systems – like hotel loyalty programs – and rewards for spending over a specific amount (i.e. spend $50 to get $10 off).
By using retail technology like a point-of-sale system, you can analyze the information you gather to channel even more rewards to your top customers. You then take brand loyalty to even higher levels.
Upselling and cross-selling
After you've set up your promotions and loyalty programs, identify your most valuable customers to open opportunities for upselling and cross-selling. Customer retention often relies on your ability to offer an even more fantastic value than what drew in that customer in in the first place. Upselling and cross-selling are fantastic ways to bring customers back to your business:
Upselling is getting customers to buy better versions of what they already want to buy. Car salesmen try to get a customer interested in a compact car to consider buying a sedan.
Cross-selling means inviting customers to purchase related or complementary products to the ones they already own. It's kind of like the sales associate at the clothing store who says, "Oh, those pants are a great choice. We have some comfortable socks to go with them. Can I show you?"
Use the KISS method – Keep it Simple Stupid. No one wants to invest too much time or sign up for something too cumbersome. When you satisfy customers consistently, you build a loyal following of people who want to shop your store. Loyalty programs support your customer retention efforts by targeting coupons and other offers. They make the right offer for the right customer at the right time.
Capitalizing on artificial intelligence
As you spend more time with Alberta POS as your point-of-sale system, the built-in artificial intelligence yields more insights. You use this information to adjust your marketing strategies. You capitalize on the knowledge you have about your customers' past behavior by persuading them to repeat it.
How do you do this? Here's one example. You find that a brand of potato chips outsells your next biggest seller by a wide margin. You have it prominently displayed along with all your other brands. You use this information in two ways. First, you adjust your potato chips order to make sure you never run out of your top brand. Second, you give your bestselling potato chips a prominent spot on a display stand at your store's entrance.
With data analytics, you can track how well your changes are paying off. If sales go up, you may be justified in patting yourself on the back for some savvy business moves.
Does your POS system learn from your customers?
Point-of-sale software is about so much more than ringing up customers. If your system doesn't help you learn about your business, it's time to get a new system.
To see the latest point-of-sale technology, set up an Alberta POS demonstration. We're happy to show you how Alberta POS can help your retail business reach new levels of success.
Resources:
https://www.wordstream.com/blog/ws/2016/11/10/customer-loyalty
https://www.crazyegg.com/blog/customer-retention/